Enhance and Improve cloud architecture wtih an AWS Well-Architected Framework
The AWS Well-Architected Framework is a set of best practices and guidelines developed by Amazon Web Services (AWS) to assist architects in designing, building, and maintaining high-quality cloud-based solutions.
It provides a structured approach for evaluating architectures, identifying potential issues or risks, and making informed decisions to ensure that systems are secure, performant, resilient, and cost-effective.
The AWS Well-Architected Framework provides several key advantages for organizations and architects:
Best Practices: It offers a curated collection of best practices across various architectural aspects, providing guidance on building cloud-based systems that are secure, reliable, performant, and cost-efficient.
Risk Reduction: By following the Framework's guidelines, potential risks and issues in the architecture can be identified early, allowing for mitigation before they become critical problems.
Cost Optimization: The Framework emphasizes cost efficiency, helping organizations optimize their cloud spending and avoid unnecessary expenses.
Operational Excellence: It encourages operational best practices, streamlining processes, and ensuring smooth system management.
Improved Performance: Following the Framework's principles can lead to improved system performance and responsiveness, enhancing the end-user experience.
Security and Compliance: The Well-Architected Framework prioritizes security, guiding architects to design robust security measures and adhere to industry standards and compliance requirements.
Scalability and Flexibility: The architecture designed using the Framework can be easily scaled and adapted to meet changing business needs and demands.
Sustainability: It promotes the use of environmentally sustainable practices and technologies, contributing to a greener cloud infrastructure.
Continuous Improvement: The Framework encourages regular reviews and refinements, fostering a culture of continuous improvement for cloud-based systems.
Alignment with AWS Services: By incorporating AWS best practices, the Well-Architected Framework ensures better alignment with AWS services, taking full advantage of the cloud provider's offerings.
Overall, the AWS Well-Architected Framework empowers organizations to build high-quality, reliable, and cost-effective cloud architectures that align with industry standards and best practices, leading to better outcomes for their applications and services.
By following the Well-Architected Framework, organizations can create robust and efficient cloud architectures that align with industry standards and AWS best practices.
Well Architected Review with Electromech
Conducting architecture reviews requires a consistent and collaborative approach that promotes in-depth exploration without assigning blame. It should be an efficient and lightweight process, taking only a few hours instead of days, and foster a conversational environment rather than an auditing one.
The main objective of architecture reviews is to identify any significant issues that require attention and areas that have potential for improvement. The end result of the review should be a set of actionable steps aimed at enhancing the overall customer experience when utilizing the workload.
Whiteboard sessions
Healthy Discussion with respective teams
Architectural and flow diagram
Review aligned to Business Goals
Experience, skilled and certified team members
Special Lenses
Custom Lenses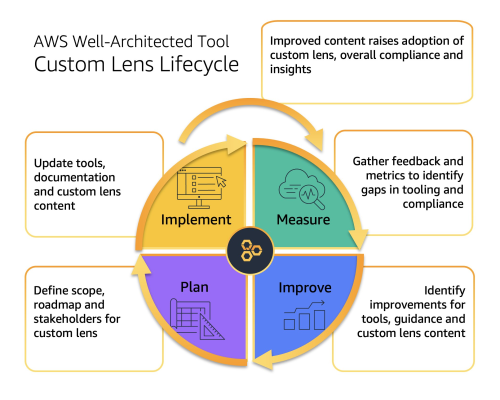 Outcomes
The WAR helps you to improve architectural best practices for designing and operating secure, reliable, efficient, cost-effective, and sustainable workloads in the AWS Cloud
Consistently measure your architectures against best practices and identify areas for improvement
Having well-architected systems greatly increases the likelihood of business success.
Developed deep understanding for Cloud environment and workload.
Conclusion
The AWS Well-Architected Framework offers industry-leading guidelines encompassing six fundamental aspects to design and operate robust, secure, efficient, cost-effective, and sustainable systems in the cloud. By leveraging the Framework, you gain access to a comprehensive set of questions that facilitate the review of your current or planned architecture. Additionally, it provides a collection of AWS best practices tailored to each pillar. Implementing the Framework within your architecture empowers you to create stable and optimized systems, freeing up your attention to concentrate on your core functional requirements.